Clients
Our clients are retailers, brand owners, manufacturing industry, material producers, government, knowledge institutions, R&D centres, design agencies, investment agencies etc. worldwide.
We are not funded by producers or manufacturers in order to remain extremely critical of all processes. We are completely independent and can therefore advise without any conflicts of interest.
Our clients include (among others)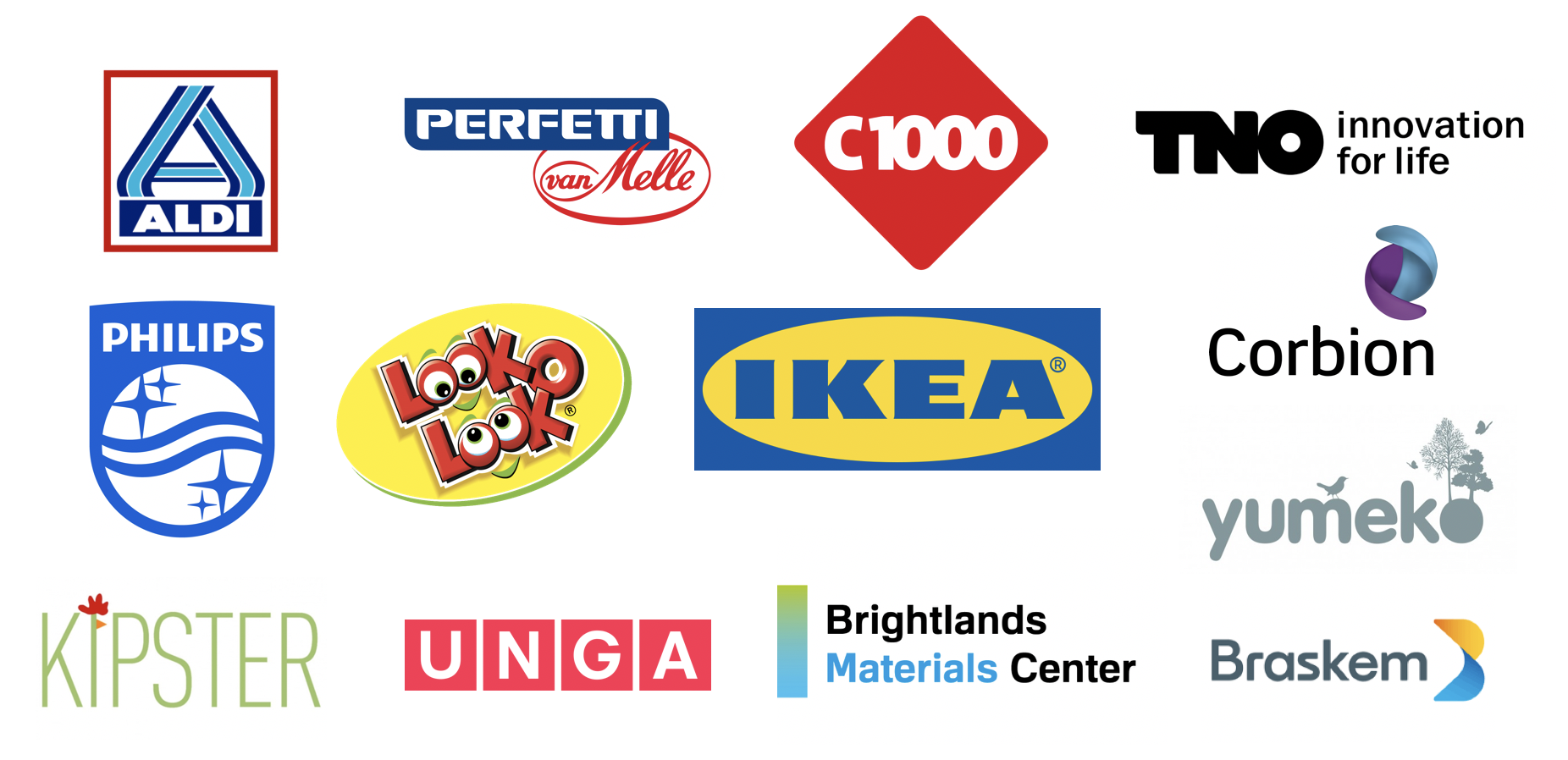 Albert Heijn
Aldi
Anomaly
Beemster Kaas
Bioplastics Magazine
Bio Futura
Bio4Pack
Boa Nova Retail Group
Braskem
Brightlands Materials Center (TNO jv)
ChemistryNL
Coop
C1000
DaklaPack Group
DekaMarkt
Dopper
Dutch Biorefinery Cluster
Dutch Harvest
Easyfairs
Ekoplaza
Eureka Caterware
Farm Dairy
Flestic
Generation of Change / Fibi-buffer
Haagse Hogeschool
HAS Hogeschool
Heineken
Hogeschool Utrecht
Holland Bioplastics
InnovatieLink
Jaarbeurs Utrecht
Jumbo Supermarkten
Kipster
KLM
KvK – Chamber of Commerce
Livera
LiquidSeal
Look-O-Look
Material District
Ministry of Economic Affairs
MVO Nederland
Natuurwinkel
NatureWorks LLC
Nudge
Oerlemans Plastics
Perfetti van Melle
Philips
Plus
Rabobank
Rodenburg Biopolymers
RVO – Dutch Enterprise Agency
Scion Research Institute New Zealand
Seepje
Sier Disposables
StayOkay
Spar
Stenden Hogeschool
Super de Boer
TNO
Total Corbion JV
Unga
Unilever
Verpakkingsprofs
XL Concepts
Yumeko
and many more…
Quotes
European Bioplastics (Chairman) & Total Corbion PLA (Senior Marketing Director) François de Bie:
"Caroli Buitenhuis, founder of Green Serendipity, has played a very active and matching role in putting bioplastics and biobased packaging on the map in The Netherlands and in Europe."
—
Braskem, Marco Jansen (Commercial Director Renewable Chemicals Bioplastics – Europe & North America):
"Green Serendipity has been of great help to link the retail and packaging markets to us, bioplastics producers, with an objective and independent view which has resulted in many promising projects and new clients."
—
Seepje (winner NL Packaging Award 2017), Jasper Gabriëlse, Founder:
"Green Serendipity has provided us with valuable insights and contacts in the packaging value chain and contributed to the concept of our new circular packaging which won the NL Packaging Award 2017." 
—
LiquidSeal (finalist SME Top 100 Innovation Award), Victor Monster, CEO:
"Due to the concrete and practical approach of Green Serendipity, we could accelerate the introduction of our innovative compostable product into the retail market with two years and also ended as finalist in the SME Top 100 Innovation Awards".
—
Fibi-Buffer (Generation of Change), Peter Westgeest, founder:
"Green Serendipity has helped us excellently in the entire innovation chain process: from idea to implementation in the end market. The expertise in the field of bio-based materials, bio-based chains and the connection to the end market has been of great value to us."