Circular Concepts
Our aim is to accelerate the bio-based and circular economy: the bio-economy. From crop to end-of-life, but actually from resource to resource. Green Serendipity sets up innovative projects and also carries out commissioned projects.
Caroli Buitenhuis of Green Serendipity is chain innovator in Renewable Materials, Circular Concepts & Packaging and also educated as packaging expert. She can also be hired as an innovation consultant, expert in the field, matchmaker or for brainstorms or concept creator in the realm of the acceleration of the bio-economy. Skype consultancy is possible.
Below are two examples of the many innovation projects that we have strategized and implemented:
Schiphol Circular Packaging Concept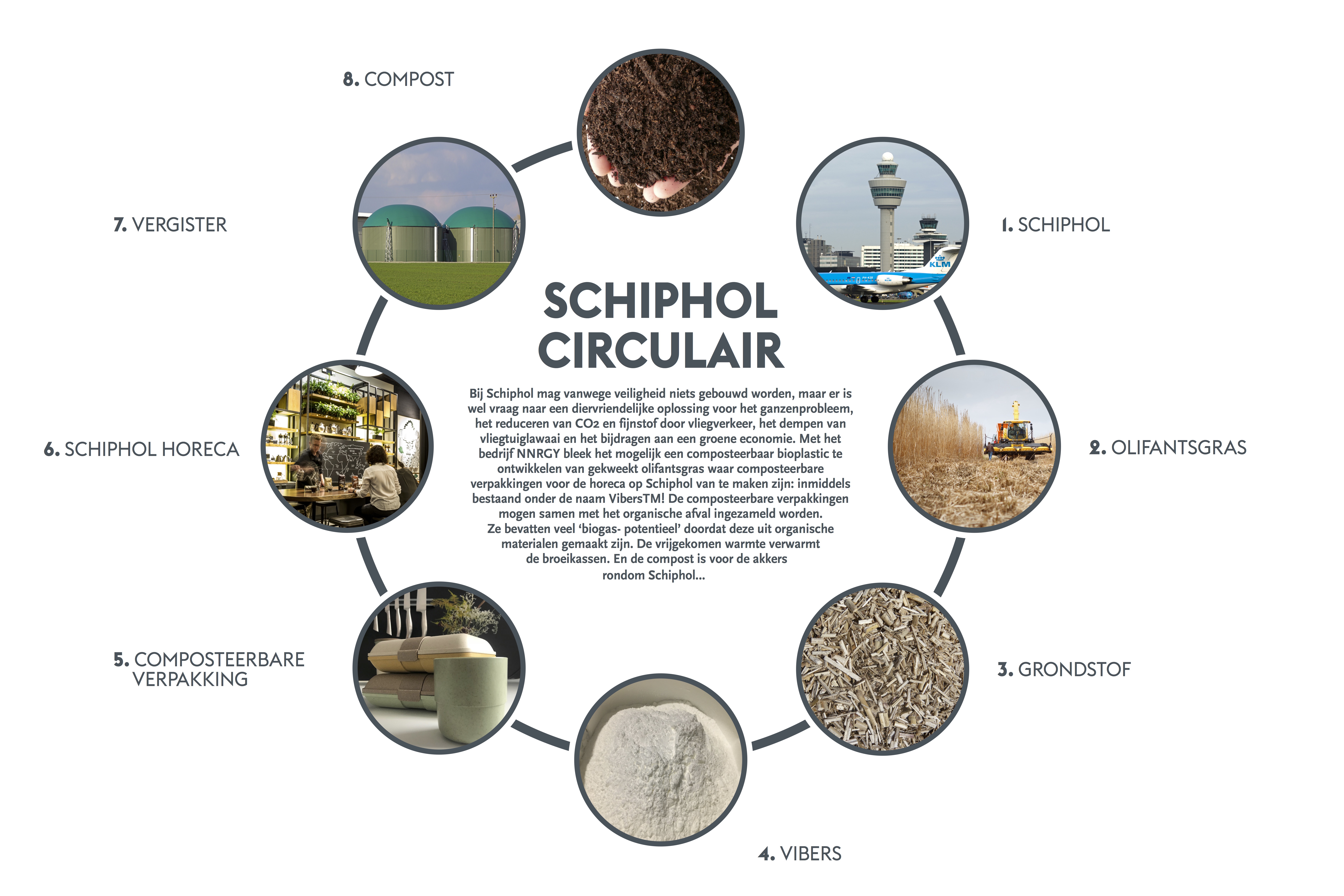 There is a lot of farmland around Schiphol. Because of safety reasons no building is allowed close to the air traffic runways. Nor can you use the land as farmland for producing food because of the emissions of kerosene. But at Schiphol they have a lot of geese they want to get rid of because they disturb the air traffic.
Together with the Miscanthusgroep (a cooperation of farmers around Schiphol) they decided to grow the fast growing Miscanthus Giganteus, otherwise known as elephant grass. This is a high growing grass in which geese can not land and which sucks up a lot of greenhouse gas and also has a sound-absorbing effect.
However, this grass needs to be mowed once in a while and the farmers where wondering what to do with this waste. Something with value…
Solution:
To develop a compostable biobased plastic based on elephant grass to be made into catering materials and packaging to be used in the hospitality and catering industry at Schiphol (a huge market with annually more than 60 million passengers).
This innovative bioplastic will be produced with new mechanical techniques instead of chemical techniques. This new material might even be lighter, stronger and cheaper then conventional plastics because of the addition of elephants grass. The first samples are already created by the company NNRGY and operates under the name Vibers.
Since Schiphol Airport is a closed circuit, catering materials and packaging along with the leftover food can fairly easily be collected separately and taken to the nearby anaerobic digester facility: Meerlanden. In this digester, the fibers could be taken out first for recycling. Then the material can be converted into biogas: there is a large amount of biogas potential in compostable bioplastics. This biogas can be used as fuel for the transport from Meerlanden or Schiphol or can be used in households in the surrounding area.
The captured CO2 will be transported via a pipeline to nearby greenhouses to feed the growing plants. The remaining digestate / compost can, if the quality is good, be spread out again over the fields around Schiphol. If the quality of the compost is not sufficient, it can be incinerated for green energy. The remaining captured CO2 can be reused in the future for the production of new bioplastics (such as AirCarbon created from CO2) to create again renewable materials for packaging or products.
This open innovation platform is an initiative of Green Serendipity in cooperation with the Schiphol Group, HMSHost, NNRGY, Suez, the Miscanthusgroep, Meerlanden, Bunzl and government. It is a perfect example of the circular bio-economy of the future: how to keep your raw materials, your processing, production, end-of-life but also your economic earnings within 1 region or country. And additionally how you can reduce CO2 emissions, how to provide biogas and green energy of a waste material and how valuable nutrients and raw materials can again serve as input for new raw materials. A perfect closed loop…
View Dutch version here: Schiphol Circulair – de toekomst in praktijk
For more information:
Green Serendipity: Caroli Buitenhuis, info@greenserendipity.nl, +31 624216733.

TassenBol
The first concept of Green Serendipity was the international price winning concept 'TassenBol', developed in 2005. It was the first circular concept in the EU that was based on reusing plastic packaging by making re-use of plastic bags very easy including raising environmental awareness about plastics among retailers, consumers and government. The Tassenbol project received many awards like the international award 'Mission Sustainability' which was handed over by Angela Merkel in 2007. The lessons learned are still very valuable for retailers, brand owners, governments and municipalities in making the right choices about reuse, (bio)plastics and (biobased) packaging and in creating circular concepts.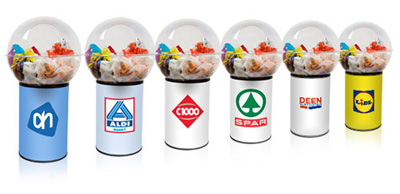 For more information:
Green Serendipity: Caroli Buitenhuis, info@greenserendipity.nl, +31 624216733.