Circular Materials
Circular materials are innovative sustainably produced, renewable, and generally available raw materials like bioplastics and recyclates. Bioplastics can have different and therefore interesting characteristics that are already recognized and used in the packaging industry, agriculture and horticulture, medical, consumer electronics and the automotive industry.
It is our aim to accelerate the transition from linear fossil based plastics to  sustainably produced renewable plastics. We do this by informing on the possibilities, giving insights and advice for making the right sustainable choices (based on chain knowledge) and connecting the dots in the supply chain.
We always look into the possibilities of using recyclate first.

Greenovation Hub
Green Serendipity has set up the 'Greenovation Hub' in Amsterdam. Its aim: to inform on renewable materials for packaging and products whilst providing essential answers about the whole chain (from raw material until end-of-life), methods, facts, communication, certification, advantages and to connect parties within the whole supply chain.
"Retailers, brand owners, production companies, packaging wholesalers or marketing managers: everyone is welcome at the Greenovation Hub in Amsterdam for the transition from fossil based materials to renewable materials like biobased plastics and/or recyclates. We have the expert knowledge and insights which are vital to helping companies convert from traditional lineair fossil based plastics and packaging to responsible, sustainable and renewable alternatives," explains Caroli Buitenhuis. "We share our knowledge in order to accelerate the circular bio-economy."
The Greenovation Hub has a great overview of samples of innovative (retail) packaging and products based on renewable materials. Visitors can see what these new materials look like, how they feel, what their barrier properties and sealing capabilities are etc. Expertise is on hand to explain how to convert to these new materials and the effect this has on existing production processes, purchasing and operating costs. "We will also give insight information on the whole supply chain, from raw material until end-of-life, explain which benefits or extra features the materials have ánd connect the end market directly to bioplastics producers, converters, knowledge institutes etc. Connecting the dots…"
The Greenovation Hub was formerly known as the Bioplastics Hub.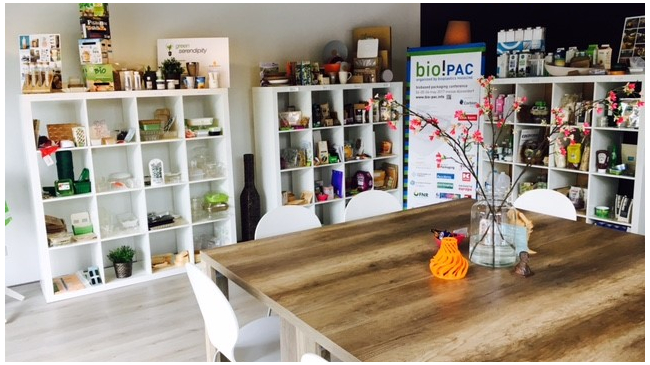 Consultancy
Green Serendipity is an agile consultancy and can be hired for experts, innovators, consultants, matchmakers, for strategy and as brainstormers or innovative concept creators with regard to renewable materials like bioplastics. Also available for presentations, workshops, or guest lectures. Including organizing conferences or meetings around the themes of bioplastics, biobased packaging or accelerating the bio-economy on behalf of third parties.
Skype consultancy is possible.
Workshop 'Introduction to Bioplastics' (NL)
For more information about the Workshop 'Introduction to Bioplastics' (NL), look here.